D isruption is everywhere – whether, from the constant advances in technology, or the changing working models brought about by the pandemic, there is no doubt that everything has changed, and that is especially true in business.
The current unpredictable environment requires flexibility to navigate. Business agility – comprising both process and technology architecture – is vital in adapting to the current uncertain conditions.
Forward-thinking firms are now focussing on digital and process efficiency like never before – but the nature of digital transformation means you cannot successfully do it alone.
P artnering with trusted industry experts is the key to unlocking transformative strategies to implement and drive your business forward.
Progressive firms are increasingly leveraging outside capabilities and developing partnerships to pivot quickly with best-in-class strategy, resources, and personnel.
T iburon guides firms to leverage; new technologies, skilled teams, and innovative business processes, enabling them to thrive in the new business playing field.
With a long history of working across diverse industries, we provide innovative solutions to drive productivity and reduce costs with our range of staff augmentation, client support, and specialist IT services.
Let's look at some of the innovative services we provide that can drive your business transformation.
Cloud Services
With Tiburon Data's extensive expertise in the Amazon Web Services (AWS) cloud platform, we can outline the best strategy for your business.
The fastest-growing startups, largest enterprises, and leading government agencies, use AWS to lower costs, become more agile, and innovate faster.
Whether for web hosting, data storage & backup, enterprise business platforms, or mobile services, AWS lets you create a secure, reliable cloud infrastructure that is scalable and flexible for your needs.
Transform into a future-ready business with AWS machine learning (ML) and artificial intelligence (AI) capabilities – AWS has one of the most comprehensive sets of AI and ML services, infrastructure, and resources available.
Our experienced cloud engineering team will help you get the best from the broad range of cutting-edge cloud services the AWS platform offers. And we'll deploy and manage a tailored solution that can scale as your business evolves.
Software Development
We believe that the software process is not a one-size-fits-all concept that can be applied successfully to all projects and customers.
We partner with our clients to create customized solutions that allow nearly infinite scalability at the most efficient cost possible.
Our development costs for most modern development frameworks are considerably lower than our competition, and our US management team ensures your project runs smoothly.
With our custom agile approach, you'll be involved in the development process – our methodology includes daily standup meetings, scrum sprints, and a disciplined change management process.
Application Integration
Automate business processes and procedures, or share and interact with critical data, with API integration of the leading services and platforms.
Whether for e-commerce, payment gateways, or accounting platforms, Tiburon can integrate leading technologies and external services to best fit your needs.
Application integration can assist with linking your existing legacy systems with fast-evolving cloud-based enterprise applications.
Check out an example of external API integrations for our client HiredHelpr.
Integration possibilities:
Payments – Stripe
Accounting – Quickbooks, Xero
eCommerce – Shopify, WooCommerce
Geolocation – Google Maps API
IT Support Teams
Benefit from an offshore IT team managed by us, with skilled staff selected for the precise needs of your business.
With our extensive pool of highly skilled client support and IT talent, you will be directly involved in candidate selection, so your chosen team will have the skills and attributes you seek.
Tiburon can recruit and onboard the offshore team you select, and they will join your internal team as extended, embedded members for a designated term. We manage the team, and you enjoy the increased productivity and cost savings.
Software Developers
IT Client Support
QA Analysts
Cloud Platform Administrators
Software Architects
Database Administrators
WordPress Developers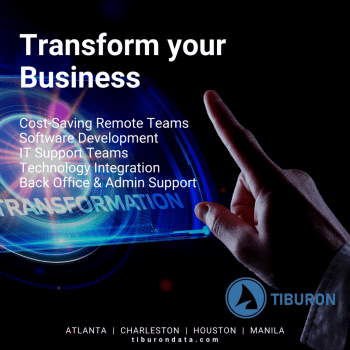 Start your Transformation
Leverage disruptive trends in digital technologies and drive productivity during this changing time with Tiburon. Our range of outsourcing and staff augmentation services will save you both money and time.
Join leading innovative firms from diverse industries who trust Tiburon with their customer support, IT services, and staff augmentation needs, like – Datex Corporation, Snap Nurse, HiredHelpr, Huvr, XPO Logistics – and many more.
We're quick to understand the challenges facing businesses today and partner with our clients to create customized solutions at the best possible cost.
Contact us now to discuss your specific needs — if a solution does not exist — we always make one.