We don't just create software – we create personalized solutions that fit your business
The development team at Tiburon consists of a strong team of seasoned, highly experienced developers who are not only experts in their own technical domain but also experts in the process of building software as a team.
We have been involved in building software for decades and have witnessed the radical changes that have occurred in development techniques over the past 15 years; from lengthy projects based around a waterfall approach to object-based projects using an iterative approach and lasting weeks or months rather than years.
Collectively we all share a passion for continuous improvement and adapting best practices which has led to an evolved in-house methodology that closely resembles that of agile scrum software development principles.
We believe that the software process is not a one-size-fits-all concept that can be applied to all teams, all projects, and all customers.
We have worked on enough projects to know what works well and what does not work so well. We try to do more of the things that work well and less of the things that don't add value. If it works keep it, otherwise dump it.
For example, our experience was telling us that some of the actual scrum practices were getting in the way. We have a waste-repellent culture and have found that rules are a good start, but break them when needed.
Our custom agile software development process allows us to develop innovative software faster at the best possible cost
What we have found works well includes; weekly sprints, daily standup meetings, disciplined use of JIRA, sprint planning meetings, story points, visual progress dashboards, and Google hangouts. We have evolved a culture of peer code reviews because we have found that it helps us build great software.
We have evolved design guidelines and coding standards to reduce engineering friction but only when badly needed. Our office is designed to optimize collaboration and cross-pollinate best practices across teams.
But we do not do weekly status reports, separate test phases, lengthy project plans, and we avoid useless meetings and corporate politics like the plague because we feel those things do not help us build great software.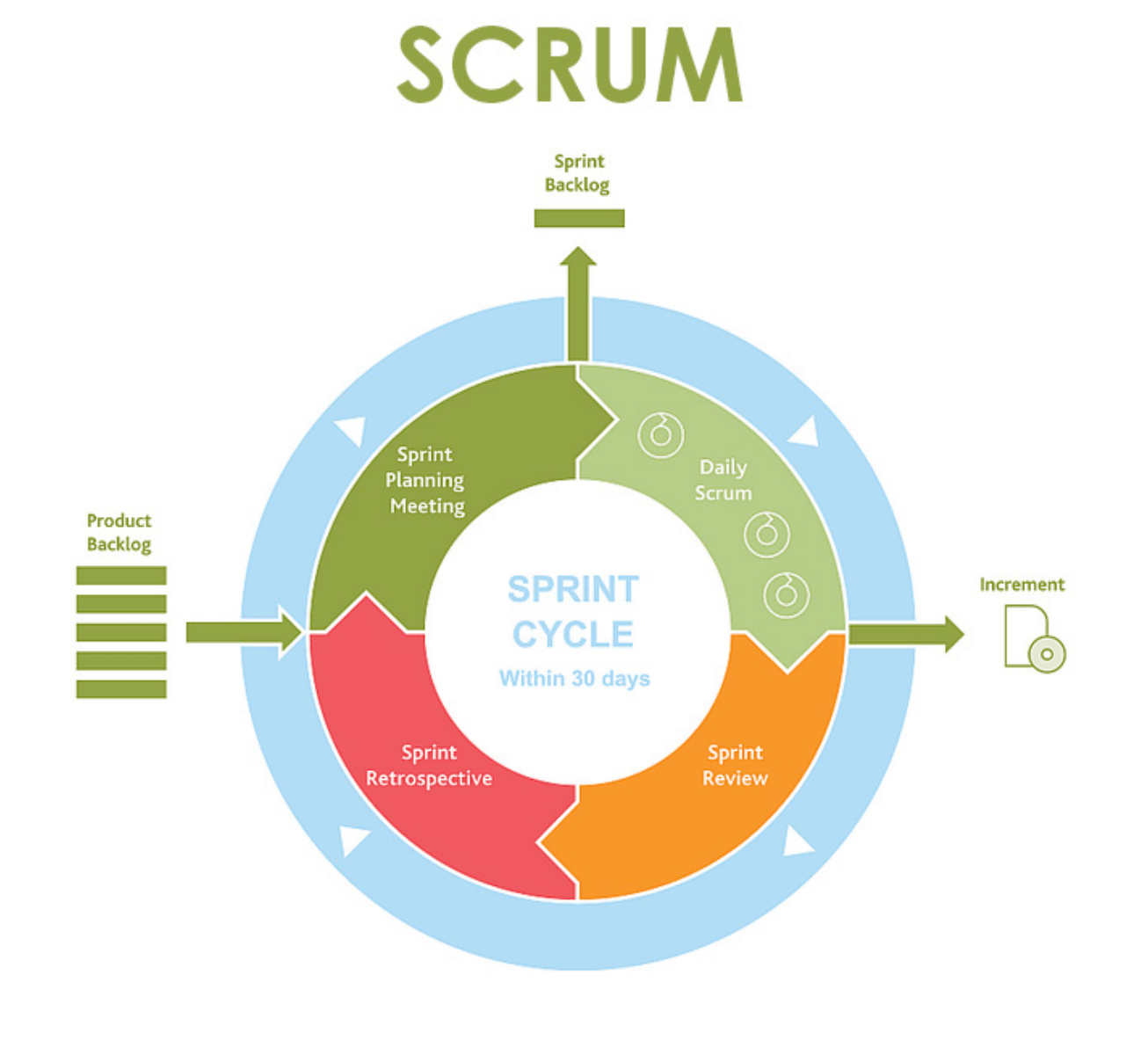 Continuous improvement with our custom a
gile development process.
We do screw up sometimes, and our process is definitely not done evolving. We encourage the concept of 'no fear' to foster innovation in our team members, and we do not punish failure because we recognize that we will try some things that don't work.
But problems that exist are short-lived and fixed fast. We learn fast and change fast, continuously improving our process as we continue to deliver great software.
This continuous improvement process allows us to build outstanding products for our clients across different industries, and we do so at the best possible cost.
Our Process:
How We Work
With You
Our success is not only due to the quality of our work; it's down to attitude, our approach, and the way we treat our clients. 
With our custom agile process, you can be actively involved in the development process – our methodology includes daily standup meetings, scrum sprints, and a disciplined change and backlog management process.
Our development costs for modern development frameworks are much lower than our competition, and our US management team partners with your company to ensure your entire project runs smoothly.
Getting started is easy – just schedule a conversation with one of our management team, either by phone or via Google Meet. They will be happy to discuss your project and requirements with you.
Schedule a Conversation
Our Solutions
Tiburon builds software that lets people do things differently and reduce costs.
SaaS, PaaS & IaaS Support Teams
Enterprise Application Development Mobile App Development
Cloud Managed Hosting
Application Integration
Database Administration
E-Commerce Solutions
Website Design & Development
Customer Support Teams
Administrative Support
Share your challenge with our team, and we'll work with you to deliver a revolutionary digital product at the best possible cost.
Explore Our Services
The core of Tiburon centers around a "culture of innovation," and if a solution does not exist — we always make one. We work across diverse industries and business verticals to create custom software, ranging from e-commerce to medical technology solutions, and supply chain solutions.